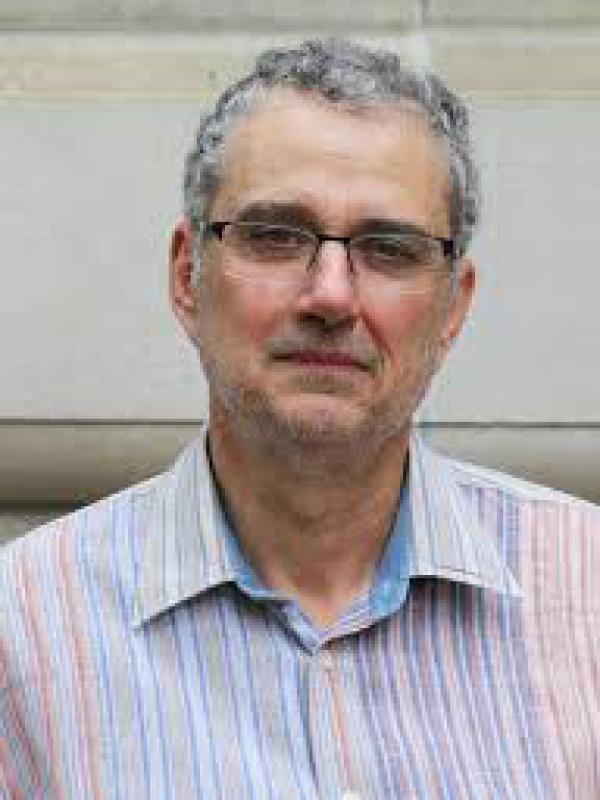 Georgios Anagnostou
The Miltiadis Marinakis Professor of Modern Greek Language and Culture
414 University Hall
230 N. Oval Mall
Columbus, OH 43210
Areas of Expertise
Modern Greek and Greek American culture and society
Transnational Greek studies
Cultural Studies
Poetry
Education
Ph.D. Ohio State 1999
M.A. Louisiana State 1992
M.S. Louisiana State 1989
B.S. Thessaloniki 1984
GEORGIOS ANAGNOSTOU
THE MILTIADIS MARINAKIS PROFESSOR OF MODERN GREEK LANGUAGE AND CULTURE
Georgios (Yiorgos) Anagnostou is a Professor and the Director of the Modern Greek Program at The Ohio State University. His research interests include modern Greek studies and American ethnic studies, with a focus on Greek America. His published research covers a broad range of subjects, including film, documentary, ethnography, folklore, literature, history, sociology, and public humanities. His work has appeared in Melus, Diaspora, Ethnicities, Italian American Review, Journal of American Folklore, Journal of Modern Greek Studies, Journal of Modern Hellenism, Modern Greek Studies (Australia & New Zealand), and The Classical Bulletin among others. He is the author of Contours of White Ethnicity: Popular Ethnography and the Making of Usable Pasts in Greek America (Ohio University Press, 2009), whose translation in Greek is forthcoming from Nisos Publishers. Also, two poetry collections. He is a co-editor of the volume Comparisons, Encounters, Identities: Italian and Greek Americans in Conversation, forthcoming from Fordham University Press.
Since the late 1990s he has been serving the Modern Greek Studies Association (MGSA) in various capacities, including the organizing and co-organizing of two Symposia. He has co-founded the Greek American Studies Resource Portal (2005-present), whose mission is to share with the public information about the scholarship and the arts in Greek America (https://www.mgsa.org/Resources/port.html). Since 2017 he is the editor of the online journal Ergon: Greek/American Arts and Letters, which features Greek American scholarship, poetry and essays (http://ergon.scienzine.com/). He writes regularly for the Greek and Greek American media.
Interviews
Interview with the Greek News Agenda [in English]
Interview in the National Herald [in Greek] 
Editor: Ergon: Greek/American Arts and Letters https://ergon.scienzine.com/
Books and Chapters in Books
---
Books
Χαρτογραφήσεις της Λευκής Εθνοτικότητας: Λαϊκή Εθνογραφία και Δημιουργία Χρηστικών Παρελθόντων στον Ελληνοαμερικανικό Κόσμο (Νήσος, 2021)
Yiorgos Anagnostou, Yiorgos F. Kalogeras, and Theodora Patrona eds. 2022. Redirecting Ethnic Singularity: Italian Americans and Greek Americans in Conversation. Fordham University Press.
Book Chapters
"Immigraντ Poetics: Play as Performativity of the Liminal Self." In Ludics: Play as Humanistic Inquiry, Vassiliki Rapti and Eric Gordon, eds., pp. 339–58. Palgrave Macmillan, 2021. 
"Poetry Traversing History: Narrating Louis Tikas in David Mason's Ludlow." In Retelling the Past in Contemporarty Greek Literature, Film and Popular Culture. Gerasimus Katsan and Trine Willert eds., 49–66. 2019, Lexington Press.
"Citizenship and Entrepreneurship: Greek America as Diaspora at a Time of Crisis." In Greece in Crisis: The Cultural Politics of Austerity, edited by Dimitris Tziovas, 107–132. I. B. Tairus Publishers. 2017.
Recent Articles
"Private and Public Partnerships: The Greek Diaspora's Branding of Philotimo as Identity," Journal of Greek Media & Culture, 7:1 (3–25), 2021. 
«Όρια, Μεθόριος, Διασπορά: Διαβάζοντας Διαβάσεις και Θεωρία» ["Boundaries, Borders, Diaspora: Reading Crossings and Theory"]. 2019 [Marginalia]: Σημειώσεις στο Περιθώριο. Τεύχος 9, Σεπτέμβριος 26. https://marginalia.gr/arthro/oria-methorios-diaspora-diavazontas-diavaseis-kai-theoria/
"Spectacular Incorporations: American Sports, Ethnic Heritage Night, Greek America." April 22, 2019. https://ergon.scienzine.com/article/essays/spectacular-incorporations
"Caesar Mavratsas: Contributions to Greek American Sociology," Ergon: Greek/American Arts and Letters, March 24, 2019. https://ergon.scienzine.com/article/essays/contributions-to-greek-american-sociology
"Roots, Return Narratives, Reclaiming 'European Americans': A Review Essay," Diaspora: A Journal of Transnational Studies. 20. 2 (2011): 216–240. © 2019. (Invited, 9,000 words)
"Do the Right Thing: Identities as Citizenship in U.S. Orthodox Christianity and Greek America." 18 November, 2018. Ergon: Greek/American Arts and Letters  http://ergon.scienzine.com/article/articles/do-the-right-thing
"Norms, Vulnerabilities, Paradoxes: Greeks and MTV." Journal of Modern Greek Studies, 35.1 (Spring 2017): 155-179.
[pdf] - Some links on this page are to Adobe .pdf files requiring the use of Adobe Reader. If you need them in a more accessible format, please contact classics@osu.edu.