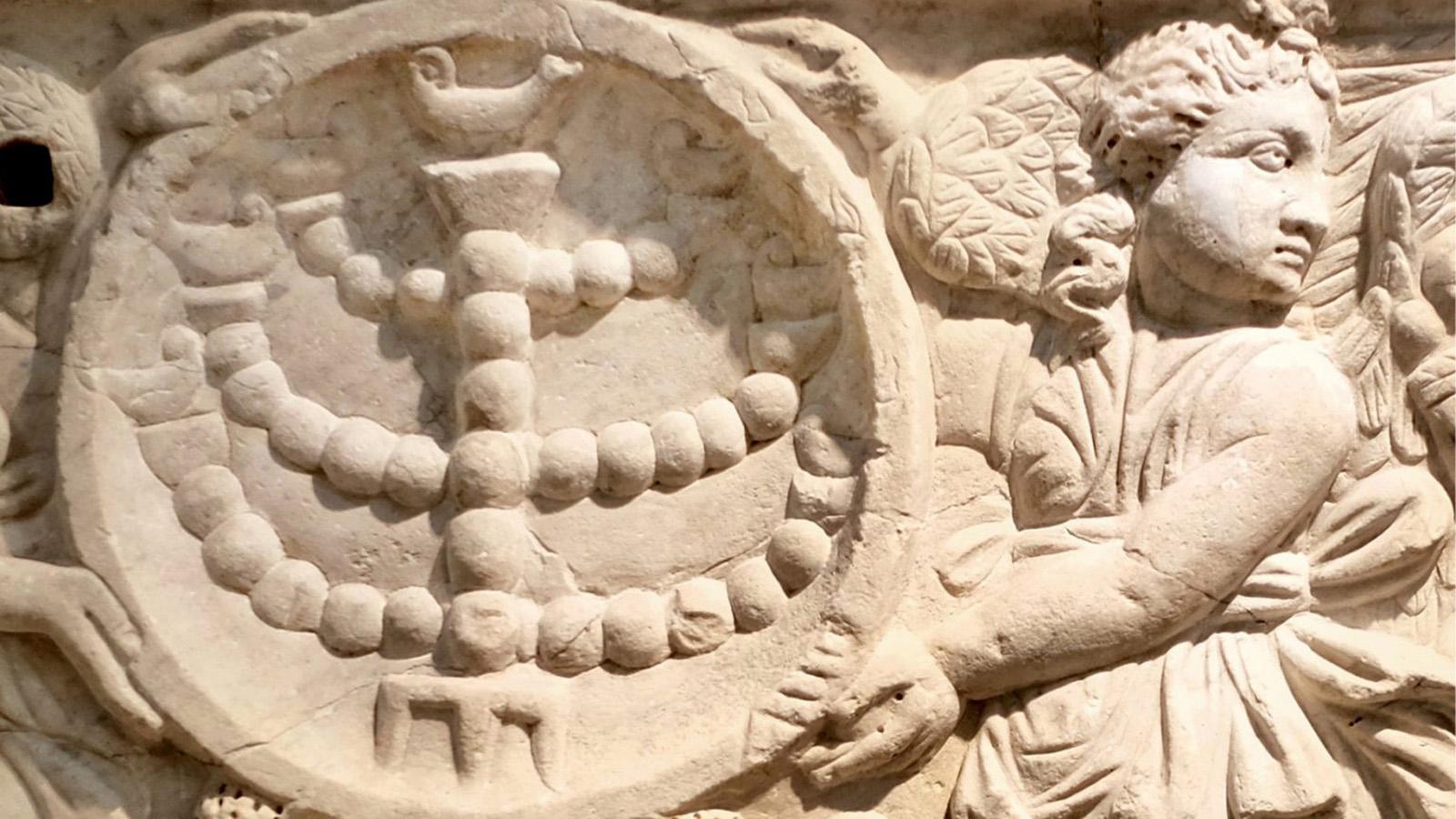 Autumn 2022
Michael Swartz: CLAS/NESA 5401 Methodologies for the Study of Ancient Religions W 2:15- 5:00PM
Previous Course Offerings
Autumn 2018
History 5229
Special Topics in Ancient Christianity: Historical Jesus                   
Professor Bert Harrill
Tuesdays and Thursdays, 12:45-2:05
This is a graduate piggy-back of History 3219.   Students will do all the readings and tests for the undergraduate syllabus––midterm and final exams––plus meet separately in a bi-weekly seminar, and write a research essay of 20 pages.  The research essay can be on any topic, in consultation with the instructor.

Classics 7893
7893: Special Topic in Ancient Myth and Religion—Narrating the Extraordinary
Professor Sarah Iles Johnston
Wednesdays, 2:15-5:00  
The class will look at Greek texts (in the original for Classics students and in translation for others) that describe extraordinary experiences such as encounters with the gods or manifestations of their power, asking how the authors of the text choose to narrate these experiences and why those narratives are--or are not--successful.  Among the texts will be some Homeric Hymns, portions of tragedies, some Pindar and perhaps other lyric poets. 
Autumn 2017
CLAS 7893
Graduate Seminar on Mystery Cults in the Ancient World
Professor Fritz Graf
Mystery cults are a unique feature of ancient religions from archaic Greece to late antiquity. The seminar will discuss these cults some of which survived for more than a millennium. We will not just concentrate on the well-known cults of Demeter and Persephone at Eleusis and the Great Gods in Samothrace, or the Mediterranean-wide cults of Dionysus, Cybele, Isis, or Mithras, but also on less well known cults that our sources treat as mystery cults and that often are only a local or regional affair and attested only in the epigraphical record. This also raises the question what exactly the term mystêria covers which some authors think goes back to the Bronze Age, how it developed throughout antiquity, and how modern scholarship looked at it, not the least in its relationship to Christianity.
History 5229
Special Topics in Early Christianity: Paul and His Influence in Early Christianity
Professor Bert Harrill
NELC 5111
Comparative Semitic Linguistics
Professor Sam Meier
NELC 5701
The Qur'an in Translation
Professor Sean Anthony
Hebrew 5100
Introduction to Biblical Hebrew
Professor Lynn Kaye

Spring 2018
NELC 7880/History 7881
Judaism in the Greco-Roman World
Professor Michael Swartz
See course description here.
History 7210
Graduate Reading Seminar in Ancient History.  Topic: Gnosticism and Manichaeism.
Professor David Brakke
See course description here
Autumn 2016
NELC 5125 and 5126
Syriac (two-semester sequence)
Professor Van Bladel
By the end of the year, you will have read Syriac texts from manuscript and be able to use Syriac for research.
 
Hebrew 5100
Intro to Biblical Hebrew
Professor Lynn Kaye
 
NELC 5130
Ugaritic
Professor Sam Meier
 
Arabic 8891
Seminar in Arabic Studies
To be taught by the new Sofia Chair of Arabic Studies.
 A graduate-level introduction to the methods and materials of traditional Arabic scholarship.
 
NELC 5101
Intro to the Field of Near Eastern Languages and Cultures
Professor Van Bladel.
This is a 1-unit intro to the field of Near Eastern Studies.
 
Comp Studies/English 5980
Ancient and Modern Narrative: Cognition, Affect, Ethics, Belief
Professor Sarah Iles Johnston and James Phelan
This interdisciplinary, team-taught course (Sarah Iles Johnston from Comparative Studies and James Phelan from English) will juxtapose narratives from ancient Greece with ones from modern and contemporary United States and Great Britain as it explores the hypothesis that the power of narrative arises from its capacity to affect the lives of audiences by engaging their beliefs, cognition, affect, ethics. By juxtaposing narratives from two different eras, we will consider what has changed and what has remained constant in the techniques, effects, and purposes of storytelling across the centuries. By studying research drawn from multiple disciplines on belief, cognition, affect, and ethics, we will set up a dialogue between the primary narratives and theoretical claims about engaging with narrative. Students will write agenda settings and two papers.
Autumn 2015
A graduate seminar on the Religions of Ancient Iran (NELC 7503: lots of Zoroastrianism along with East-Syrian Christianity, Babylonian Judaism, Mandaism, and Manichaeism, not to mention some Islam at the beginning) will be taught by Kevin van Bladel, Mondays 2:15-5.

A graduate seminar on 'Roman Festivals in the Greek East' will be offered by Fritz Graf on Fridays from 2:15 to 5:00.  It is currently listed under the Classics 7894 rubric, although it is a religion course.

A course on Midrash (Hebrew 5603) also will be offered on Mondays 2:15-5:00, by Michael Swartz.  This could fulfill a GISRAM requirement with the director's permission.
 
A graduate seminar on Carthage that focuses on cultural contact and colonization (Greco-Phoenician-Roman-Iberian-North African relations) will be offered by Carolina López-Ruiz.  Some religion will be involved.  If you want this to count for GISRAM, please talk to the director about the possibility.
Spring 2016
David Brakke is doing an independent study with some students on the topic of Hagiography and History under the rubric of History 8210 (Research Seminar).  If you would like to join this group, please contact David
Sarah Iles Johnston will be teaching a seminar on the Methodologies for the Study of Ancient Myths under the rubric Classics 7893: (Topics in Greek and Roman Myth and Religion).  Wednesdays 2:15-5:00.

Michael Swartz will be teaching Methodologies for the Study of Ancient Religions under the rubric NELC 5401.  This is one of the course that counts as a methodology seminar for GISRAM.  Mondays 2:15-5:00
Spring 2015
A graduate seminar on ancient magic will be offered by Sarah Iles Johnston on Tuesday afternoons, 2:15-5:00, under the rubric of Classics 7894.

A course on post-biblical Jewish Aramaic (NELC 5121) will be taught Mondays 2:15 to 5:00 by Michael Swartz as a follow-up to Sam Meier's biblical Aramaic class, and as a complement to the Syriac courses that Kevin Van Bladel is offering this year.

The class will cover the basics of post-biblical Jewish Aramaic grammar, Aramaic of the Dead Sea Scrolls, Targum, and Palestinian and Babylonian Jewish Aramaic from the Talmuds, Midrash, magical texts, and inscriptions.
 
Kevin van Bladel's Syriac course, part two, will meet MWF 12:40 to 1:35.
 
Hebrew 5194, Introduction to Biblical Hebrew, will be offered by Lynn Kaye .  The course will start from the basics and aim to cover most of the essential Hebrew grammar by the end of the semester.  It will be held MW 11:10-12:30.
Autumn 2013
Seminar on Roman Religion (Classics 7893)—Fritz Graf
Narratives of Origin: The Islamic Tradition (NELC 7501)--Parvaneh Pourshariati
Spring 2014
Classics 5401: Methodologies for the Study of Ancient Religions—Fritz Graf. The class – this year organized as a 3-hours seminar – studies the varying methodologies that have been used to study ancient religions between the rise of Academic religious studies and the early 21st century. Most of them followed paradigms that were developed for the general study of religions, such as the approaches of Durkheim, Max Weber, or Claude Levi-Strauss; a few developed their paradigm from the study of ancient Mediterranean religions, as did the so-called Cambridge school around Jane Ellen Harrison and James G. Frazer, or the Paris group around Jean-Pierre Vernant, or J.Z. Smith in Chicago. We will extensively read both the key theoretical texts and the texts that contested these methodologies.
Greek 7890: New Testament Interpretation for Historians—Bert Harrill. The main goal of the course is a careful, close reading of the diverse New Testament writings, as well as some non-canonical texts, in their religious and cultural context of the Roman Empire, with attention to the history of research and current methodologies in the field.  
NELC 5103: Manichean Middle Persia and Parthian (introduction to the language and seminar on Manichaeism—Kevin van Bladel
History 7210: War, Narrative, and Religion in Late Antiquity--Tina Sessa.  This course will ask students to ponder how we might read (and re-read) familiar texts on late antique religious life and thought in new ways by paying closer attention to the texts' relationship to war and warfare
History of Art 8301/Classics 7881: Studies in Greek and Roman Art--Mark Fullerton. Constructions of the Past in Classical Art and Culture.  Please see the flyer.
Spring 2011
Classics 880: Introduction to the Study of Ancient Religions
Instructor: Prof. Sarah Iles Johnston, MW 12:30-2:18 pm

This course will survey major figures in the study of religion during the past century and a half, evaluating the potential contributions of their work for the understanding of ancient Mediterranean religions.  Students will read these scholars' works, as well as articles about them and criticisms of their works.  Figures studied will include E.B. Tylor, E. Durkheim, M. Weber, M. Eliade, A van Gennep, V. Turner and E. Turner, C. Geertz, M. Douglas, W. Burkert, C. Bell and J.Z. Smith

History 792: Cultural Currents in the Late Antique Near East: The Arabs, The Byzantines, and the Sasanians
Instructor: Prof.  P. Pourshariati, W 2:30-6:18 pm

During the past half century a growing trend in Islamic studies has sought to contextualize the rise of Islam in terms of the cultural and historical currents of the Middle East during the late antique period.  The nexus that Mecca and Medina and various other Arab communities in Syria, Yemen, Mesopotamia, and the Persian Gulf established with their brethren as well as other communities within the Byzantine and Sasanian empires of late antiquity have increasing come under scrutiny in this scholarship.  What were the cultural currents of the Mediterranean world of late antiquity?  What were the consequences of monotheism in late antiquity and how can one contextualize the rise of Islam within it?  How did Christian Byzantium view the rise of Islam and what relationship did it have with various Arab communities within and without it?  What were the interrelations between various Christian communities, including the Nestorian, and various Jewish communities, to the Meccan and Medinan society?  How extensive were cultural contacts amongst these?  Was there an "Iranian factor" in Byzantium, and how did the Iranian world and the Sasanian Empire partook in the cultural currents of late antique Middle East?  How extensive were the Sasanians' relationship with Yemen, Arabia and Byzantium during this period of history?  Besides a Judeo-Christian and Byzantine context, can one envision an Iranian context to the rise of Islam and the cultural and historical currents which informed it?  Tapping on the primary sources for investigating these questions pertaining to early Islamic cultural history, and delving into the contemporary scholarship that has sought to answer these, this course aims at providing a cultural and historical context for the rise of Islam in the late antique Middle East.

NELC 630: Ugaritic
Instructor: Prof. Sam Meier, MW 2:30-4:18 pm

Prereq: Permission of instructor
This course introduces the student to the Late Bronze Age language, literature, and culture of the city-state of Ugarit, a kingdom that flourished in northern Syria ca. 1400 B.C.E. The discovery of Ugarit in 1928 opened the world of the Canaanites (in particular their mythological and religious texts) to biblical scholars, and revolutionized scholarly approaches to the Hebrew Bible. Students in linguistics or ancient history are also welcome, since all readings are in transliteration. The course will provide a foundation for further work and research in the areas of ancient Near Eastern religion, culture, history, linguistics, and biblical studies

NELC 792/Comparative Studies 792: Ancient Jewish Mysticism and Magic
Instructor: Prof. Michael Swartz, W 3:30-6:18 pm

While the ancient rabbis were formulating the classics of law and biblical interpretation that served as the sources for Judaism as we know it, ancient Jews pursued striking visions of God enthroned on a huge chariot; attempted to conjure angels to reveal secrets of wisdom and cosmology; and used unauthorized ritual practices to obtain a material benefit for an individual.  These texts and practices raise questions about the nature of ancient Judaism as well as the relationship between Judaism and other religions of the Greco-Roman world.  This course will be a seminar on the sources and concepts behind ancient Jewish mysticism and magic, their cultural context, phenomenology, literary characteristics, and the importance of these phenomena for the history of religions in the ancient Mediterranean.  The course will draw on several disciplines, such as religious and cultural studies, history, and literary studies. 

 
Also of Interest:

History of Art 663: Early Islamic Art
Instructor: Prof. Howard Crane, MoWe 3:30PM - 5:18PM

Introduction to the history of Islamic art and architecture from its formation through the classical age (i.e. from the 7th through the 13th centuries).
Autumn 2008
(* means: there is a language prerequisite)
Comparative Studies 725: Theorizing Religion
TR 1:30 pm – 3:18 pm, Instructor Hugh Urban (urban.41@osu.edu)
Far from waning in significance in our increasingly globalized, technological and interconnected modern world, religion has re-emerged as a powerful force with tremendous social, economic and political implications. This course is an intensive seminar devoted to the close critical reading of a series of key theories in the contemporary study of religion.
The approaches covered in this course will include: Neo-Marxism and critical theory, postmodernism and deconstruction, feminism and gender-theory, evolutionary theory and cognitive science. The authors we read will include: Pierre Bourdieu, Michel Foucault, Gilles Deleuze, Grace Jantzen, Pamela Sue Anderson, Pascal Boyer, and others. Students will be expected to lead class discussions, write one original research paper and give an oral presentation based on their final project.

Comparative Studies 792A: Theories of Myth
TR 1:30 pm – 3:18 pm, Instructor: Merrill Kaplan (kaplan.103@osu.edu)
Stories about gods, stories about how the world came to be in the form it has now, stories set before the beginning of time or at the end of time—myth is a major genre of traditional narrative, and every human society has myths. How did they start? What is the relationship between myth and religion? How is it that so many myths are so similar even though they come from wildly different places? Are they literature? What do they mean, and how can we analyze them? This course is about how to think about myth and how myth is good to think with. Students will become familiar with the major theories and theorists of myth and bring them to bear on Norse, Greco-Roman, and other world mythologies. The subject matter will be of interest to students of folklore, religion, and ancient literatures, among others. Assigned books will include Theories of Mythology (Eric Csapo), Sacred Narrative (ed. Alan Dundes), Ovid's Metamorphases, and Snorri Sturluson's Edda. Shorter readings will be made available online.

Comparative Studies 710: Approaches to Comparative Cultural Studies I
MW 3:30 pm - 5:18 pm, Instructor: Nina Berman (berman.58@osu.edu)
This course explores some of the basic paradigms of research in the study of culture that arise in the modern period (mostly the late 19th- and early 20th- centuries). We will situate these paradigms in historical context and examine what is at stake in the ways society, social relations and culture are conceived in the wake of the Enlightenment. This course is followed by and preparatory for CS 711, which focuses on contemporary work in comparative and cultural studies. Readings may include such 19th- and 20th-century theorists and writers as Darwin, Wollstonecraft, Mill, Marx, Nietzsche, Freud, Conrad, Durkheim, Lévi-Strauss.

*Greek 880: Greek Journeys to Otherworldly Realms
T 2:20 pm – 5:30 pm, Instructor: Ilinca Tanaseanu-Doebler (tanaseanudoeble.1@osu.edu)
This seminar explores different instances of breaking through everyday experience and travelling to the beyond, either upwards to the realm of the gods, or downwards towards the netherworld. We shall read and discuss examples from different literary genres, looking at philosophical ideas of ascent (e. g. Parmenides, Empedocles, Plato, Plutarch), mythical journeys (serious ones like the Nekyia or the myth of Orpheus, but also their counterparts in comedy or satire, e. g. Aristophanes and Lucian), or magical texts (PGM). Particular interests of the students will also be considered. We will trace and analyse the cosmological and anthropological assumptions underlying the different journeys, focussing on the motivation for undertaking the journey, the methods of crossing the border to other realms, their depiction and the phases of the journey, and, last but not least, the methods of return to everyday life.

*NELC 635.1: Akkadian 1
TR 01:30 pm – 03:18 pm, Instructor: Sam Meier (meier.3@osu.edu)
This two-quarter course aims at familiarizing students with the basics of Akkadian grammar and enabling them to read legal and literary materials. Students will be introduced to two major compositions: the so-called "Code" of Hammurabi and the Epic of Gilgamesh. In order to achieve an efficient knowledge of Akkadian grammar, the dialect chosen will be Old Babylonian, the language of the period of Hammurabi. Old Babylonian (OB) presents many advantages: the importance and variety of its textual corpus; the very easy transition from OB to texts in other Akkadian dialects (Neo-Assyrian, Neo-Babylonian, etc.); and the fact that OB constitutes the basis of the main Akkadian literary dialect (Standard Babylonian, as used in Gilgamesh). 642.Representing the Middle East in Film U G 5 Examination of the discourses of Orientalism using film as the primary medium of statement and discussion. Au, Wi Qtrs. 2 2-hr cl. Prereq: Permission of instructor. By looking at films made in the United States, Europe, and the Middle East, this course will explore the process of identity production and critically reconsider the phenomenon of Orientalism. It will then proceed to review examples of how tropes of viewing the Middle East have become incorporated into how peoples of the region evaluate their own identities. Students will be expected to synthesize materials from multiple sources in order to construct original responses to the films seen in class.

*NELC 620: Introduction to Hebrew Literary and Cultural Texts
MW 09:30AM – 11:18AM, Instructor: Adena Tanenbaum (tanenbaum.8@osu.edu)
Literary and cultural Hebrew texts from the biblical to the modern period; students will develop the ability to read critically and to build analytical vocabulary. This course introduces the student to Hebrew literary and cultural texts from the biblical to the modern period. Focusing on Jerusalem, students will gain familiarity with a variety of Hebrew literary genres and their distinctive features. While continuing to build vocabulary and reading skills, students will be encouraged to read these texts critically and analytically. Secondary readings (in English) on the history and cultural life of Jerusalem will provide additional insights.

NELC 671: The Qur'an in Translation
MW 09:30AM – 11:18AM, Instructor Georges Tamer (tamer.1@osu.edu)
An introduction, in English, to the literary, religious, and cultural implications of the fundamental Book of Arabic literature and of Islamic civilization. As the unique scripture for the world's millions of Muslims since the early seventh century, the Qur'an has been the foundation of faith, the pattern and text for ritual, the source of law, the link with Judaeo-Christian monotheism, and the wellspring of an international, multicultural Islamic civilization. As verbal art, the Qur'an is held by Muslims to be linguistically and stylistically inimitable; and it is unquestionably a - if not THE - masterpiece of Arabic literature, even though its style, content, and arrangement are often poorly appreciated, misunderstood, and even misrepresented in this country. Through lectures and assigned readings, this course acquaints students with the geographical, historical, social, political, cultural, and religious environment of sixth and seventh century Arabia. There, in the international trade center of Mecca around 610 A.D., a moderately successful merchant from a moderately important family, Muhammad son of Abdallah, received the first of a series of revelations from God that ended with his death in 632 A.D. and radically transformed his life, the lives of his people, and the history of the world. These revelations, which collectively comprise the Qur'an as it was established shortly after the Prophet's death, will form the primary subject matter of the course, i.e., through careful examination and serious discussion of extensive passages in at least three translated versions of the Arabic original. The primary object of the course will be to bring students to some understanding of just what the Qur'anic revelations might have meant to those who first heard them from the Prophet, how they might have affected different listeners in different contexts, and why they could so effectively move individuals, families, tribes, and whole societies in order to bring about the monumental personal and social reorientation that was - and is - Islam.
Spring 2009
Hebrew 623 Readings in Rabbinic Literature
M,W 3:30-5:18 PM, Instructor: Michael Swartz
Study of selected texts and issues in Rabbinic literature, and discussions of the methods by which they are studied

Hebrew 721 Studies in Hebrew Poetry: Medieval Hebrew Poetry from Spain
M, W 9:30-11:18 AM, Instructor: Adina Tanenbaum

 
Of Related Interest:
Arabic 722 Studies in Arabic Prose: Selections from the 1001 Nights
M,W 1:30-3:18 PM, Instructor: Bruce Fudge

Comparative Studies 651J Meso-American Religions: Indigeneity or Hybridity
T, R 1:30-3:19 PM, Instructor: Lindsay Jones
The class begins with a consideration of Meso-American religion before the arrival of the Europeans, but will devote much time to the developments in the wake of this arrival and the tension between two prominent tendencies, indigeneity and hybridity.
Winter 2008
Comparative Studies 620
Approaches to the Study of Religion
Instructor: Prof. Lindsay Jones
TR 3:30 - 5:18

Arabic 672
Arabic Folk Narratives in Translation
Instructor: Prof. Sabra Webber
M W 01:30 – 03:18

Greek 880
Ancient Mythology
Instructor: Prof. Fritz Graf
F 12:30-3:18
Spring 2008
(* means: there is a language prerequisite)
*Arabic 626
Introduction to the Arabic Qur'an
Instructor: Prof. Georges Tamer
TR 9:30-11:18

In this course, students are introduced to the Scripture of Islam, deemed to be the very words of God as revealed by His Messenger Muhammad, in its original Arabic text. The unique linguistic, literary, and conceptual features of the Qur'an have long been recognized among Muslims (who affirm its inimitability and divine origin) and non-Muslims alike. After a few background lectures dealing with relevant historical, cultural, religious, linguistic, and orthographical questions, students undertake a careful, detailed, and analytic reading of selected chapters (suras), with special attention to language, style, and content. Students will become acquainted with fundamental secondary source materials that are essential to an adequate understanding of the Arabic text, such as Qur'anic commentaries, dictionaries, philological and grammatical works, and monographic studies. The primary purpose of the course, along with increasing the students' mastery of classical Arabic, is to lead students to consider what the Messenger's Arabic message might have meant to its first audiences in early seventh-century Mecca and Medina, and how it might have moved them. --- Prereq: 403.

Hebrew 671
The Problem of Evil in Biblical and Post-Biblical Literature
Instructor: Prof. Reuben Ahroni
TR 1:30-3:18

This is an exploration of the most vexing of all biblical and post-biblical questions: how can a just and infallible God allow evil in His world and how does one account for the seeming contradiction between tradition and experience? Relevant passages from the Bible (Job and Koheleth in particular) and selections from apocryphal and rabbinic literature will be studied, along with comparable texts from ancient Near Eastern literatures and additional readings in contemporary secondary literature. Graduate students and undergraduate Hebrew majors will be required to read the texts in the original Hebrew. --- Prereq: 273 or 274 or equiv or permission of instructor. Given in English, but grad students and undergrad Hebrew majors will read the texts in the original Hebrew.

Hebrew 611
History of the Hebrew Language
Instructor: Prof. Sam Meier
MTWRF 9:30

A study of the panorama of the entire history of the Hebrew language, from the earliest biblical texts, through Classical and Late Classical Biblical Hebrew, Qumran Hebrew, Mishnaic Hebrew, Medieval Hebrew, early modern Hebrew and standard modern Hebrew. Taught in English. In this course, students read a variety of examples of Hebrew from many different periods, and discuss the development of the language based on the forms found in the texts. A comprehensive introduction is given before the texts are read. The class also reads some examples of Phoenician texts and extra-biblical contemporary texts to highlight the nature of the language as a member of the Semitic family. The unity of the language over time is stressed, and the development of new vocabulary is investigated. The issue of Hebrew as a "dead" language is addressed, and the period of the revival is subjected to linguistic scrutiny.

Comparative Studies 651
Religion and Magic
Instructor: Prof. Hugh Urban
MW 11:30-1:18

This course will examine the revival of interest in magic, neo-paganism and Satanism in the United States and Europe from the late 19th century to the present. Movements and figures discussed will include: Wicca, Gerald Gardner, Aleister Crowley, feminist and environmentalist paganism, the Church of Satan , Druidism, Chaos Magic and others. The class will include films, field trips and guest presentations by local neo-pagan practitioners. Students will be expected to produce a final research paper which will be presented to the class during the last two weeks of the quarter.

Comparative Studies 651M
The Idea of Religion: Past and Future
Instructor: Prof. Michael Swartz
T 2:30-5:18

How did we come to think of religion in the ways did we do? Are there alternatives? This course will examine the origins of contemporary conceptions of religion and contemporary critiques of those conceptions. We will look at the roots of the idea of religion in antiquity, the Reformation, and the Enlightenment, and also look at how those ideas are being challenged by social scientists, philosophers, and cultural historians. We will also look at "case studies" of particular aspects of religion and how they are dealt in religious studies that illustrate and apply the problems raised in the course.

Comparative Studies 651Y
Contemporary Approaches to the Study of Religion
Instructor: Prof. Lindsay Jones
TR 1:30-3:18

Though any map of contemporary religious studies is certain to be messy and incomplete, his course will proceed through issues and alternative approaches that may be somewhat clumsily labeled as follows: postmodern challenges to religious studies; post-modern hermeneutical approaches; religious studies and "the politics of difference;" heuristic non-reifying) approaches; non-literary (non-text based) approaches; materialist (Marxist) approaches; religious studies as public scholarship and/or cultural criticism; religious studies and Foucault; feminist approaches; post-colonial approaches; socio-biological (evolutionary) approaches; cognitive (neurobiological) approaches; intellectual biographical approaches; and autobiographical (self-reflexive) approaches. --- Prerequisite: Comparative Studies 620

Comparative Studies 826
Religion and Sexuality
Instructor: Prof. Hugh Urban
MW 1:30-3:18

This class will explore the intersections between religion and sexuality in a variety of historical examples and from several theoretical perspectives. Topics will include: sexuality in early Christianity; marriage and gender in the Church of Jesus Christ of Latter Day Saints (Mormons) and other 19th century American movements; Muslim views of sexuality, gender and the body; transformations of sexuality in Hindu yoga and Tantra; the role of trans-gender figures in Native American spirituality; the role of sexuality and feminism in the modern revival of neo-paganism, witchcraft and magic; and other topics to be decided by class interest. We also discuss a variety of contemporary theoretical models for the analysis of religion and sexuality, including Freud, Foucault, Butler , and others. Students will be expected to pursue an original research project on a topic of their own choosing which will be presented to the class during the last two weeks of the quarter.

History of Art 663
Early Islamic Art
Instructor: Prof. Howard Crane
TR 30-5:18

A survey of the history of Islamic art and architecture from the seventh to the thirteenth century and its Late Antique antecedents in the Near East and Iran.

History of Art 720
At the Crossroads of Republic and Empire: 100 Years in the City of Rome
Instructor: Prof. Francesca Tronchin
T10:30-1:18

This seminar will focus on the topography of Rome from ca. 50 BCE to ca. 50 CE, paying special attention to monuments and buildings commissioned by some of the most illustrious leaders of the period, including Pompey the Great, Julius Caesar, and Augustus. As we examine these building projects, we will question in what ways political and social motives influenced the style, siting, and function of the monuments. Funerary monuments, residences, fora, religious structures, and entertainment complexes like theaters will all be addressed in this seminar. We will also discuss the historical and functional developments of particular neighborhoods of Rome, like the Campus Martius and the Forum Romanum.
Autumn 2006
(note: * means specific language requirements)
* Arabic 722 The 1001 Nights - Instructor: Michael Zwettler
CS 725 Theorizing Religion - Instructor: Hugh Urban
* Hebrew 601 Biblical Hebrew Grammar - Instructor: Sam Meier
* Greek 880 Greek Cosmogonies and the Near East - Instructor: Carolina López-Ruiz
Winter 2007
(note: * means specific language requirements)
Classics 870
Focus Seminar on Mediterranean Cultures and Religions: Animals
Instructors: S. I. Johnston and T. McNiven
R 1:30 - 4:18
Comparative Studies 526
New Age Religions
Instructor: H. Urban
MW 9:30 - 11:18
Comparative Studies 542
Native American Identity
Instructor: D. Reff
MW 1:30 - 3:18
Comparative Studies 711
Approaches to Comparative Cultural Studies II
Instructor: Ph. Armstrong
TR 1:30 - 3:18
Comparative Studies 862
Performance and Politics
Instructor: B. Shank
MW 1:30 - 3:18
* Hebrew 621
The Bible as Literature
Instructor: R. Ahroni
TR 12:30 - 2:18
* Hebrew 623
Reading in Rabbinic Literature
Instructor: M. Swartz
W 9:30 - 12:18
History 708
Studies in Ancient History: Data, Data Analysis, and Presentation in Ancient and Medieval History
Instructor: T. Gregory
M 3:30 - 5:18
Spring 2007
(note: * means specific language requirements)
Comparative Studies 620
Approaches to the Study of Religion
Instructor: Prof. H. Urban
TR 11:30 - 1:18
Comparative Studies 651
Art and Ancient Judaism
Instructor: Prof. M. Swartz
W 3:30 - 6:18
* Hebrew 621
The Bible as Literature: Selected Readings
Instructor: Prof. Sam Meier
MW 1:30 - 3:18
* Hebrew 623
Readings in Rabbinic Literature
Instructor: Prof. Daniel Frank
MW 9:30 - 11:18
History of Art 722
The Cities of Vesuvius
Instructor: Prof. Francesca Tronchin
M 12:30 - 3:18
History 507
History of Medieval Christianity
Instructor: Prof. Joe Lynch
TR 1:30 - 3:18